Saffron Walden Art Society is open to artists of all ages and abilities and those who have an appreciation of art.
Saffron Walden Art Society (SWAS) offers a varied programme of demonstrations by artists using a wide range of medium and subject matter.
The Society offers members opportunities to display, exhibit and sell their artworks in local venues. These include the Exchange Gallery, our pop-up displays on the Bandstand in Jubilee Gardens and the Annual Exhibition in October at Fairycroft House.
Bill Newton -Village Scene in Watercolour - 17th November 2023
Thank you to Bill Newton for rounding off our year of demos with such wonderful village scene, with what seemed very little effort, especially the trees!
Next Friday meeting, 19th January 2024  – Laura Boswell, Printermaker, Japenese Woodblock – Please note this will be online via ZOOM
More details on these meetings on the Programme Page
Friday meetings - Demonstrations
SWAS meet on the 3rd Friday of the month at:
Katherine Semar School, Ross Close, Saffron Walden CB11 4DU.
The hall is open from 7pm. We start promptly at 7.30pm, finishing at 9.30pm. Entrance is £1 for members and guests are warmly welcomed, £4.  
We have a refreshment break, with tea or coffee provided.  There is an opportunity to see the artist's work close up and to socialise with members and friends.  Members can also borrow books from the Saffron Walden Art Society library, available at Friday meetings.
For information on upcoming demonstrations visit the Programme page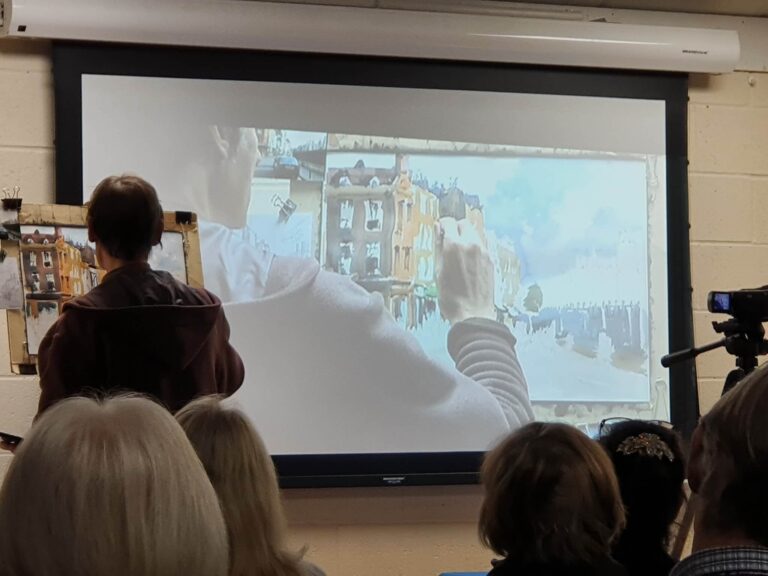 There is now a new venue for Saffron Walden members artwork in town, the Jubilee Hub, by the bandstand.  Art will be changed every 8 weeks.  Check out the opening times here.  A few pictures from inside the venue below, when you get the chance, go in and take a  closer look.
Our membership year starts 1st April and runs to 31st March of the following year.  New members can join at any time.  For more details on how to join SWAS go to our Join Us page